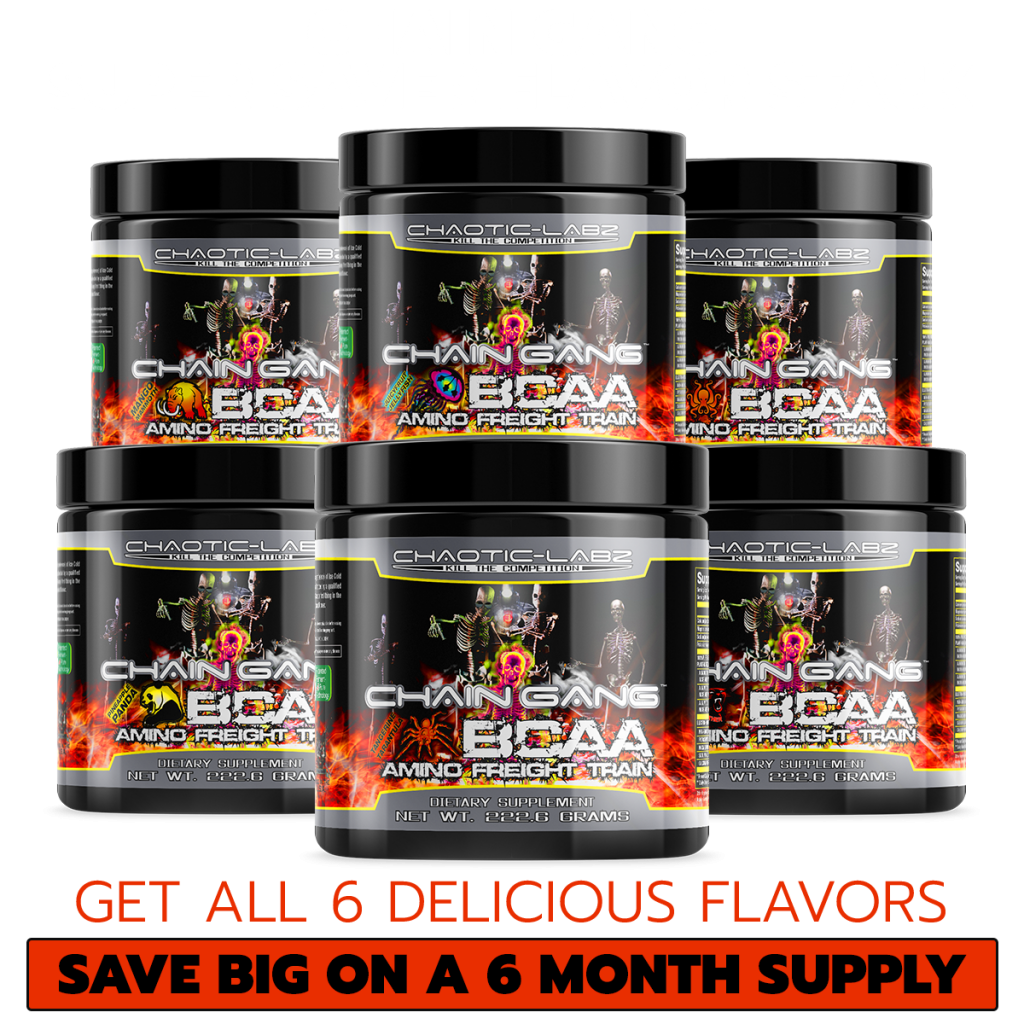 SALE
CHAIN GANG SUPER SAVER FLAVOR STACK
CHAIN GANG  - BCAA (6 MONTH SUPPLY)
GET ALL 6 DELICIOUS FLAVORS FOR 1 LOW PRICE!
STACK INCLUDES: 1 JUICY FRUIT JELLY FISH, 1 MANGO MAMOTH, 1 ORANGE OCTOPUS, 1 PEACH PANTHER, 1 PINEAPPLE PANDA, & 1 TANGERINE TARANTULA.
DELICIOUS. *‡
NON-GMO. *‡
PLANT BASED. *‡
GLUTEN FREE. *‡
VEGAN FRIENDLY. *‡
LABORATORY TESTED. *‡
100% PLANT FERMENTATION. *‡
PATENTED FERMENT -A-PURE TECHNOLOGY. *‡
MICRO INSTANTIZED  FOR HIGHER SOLUBILITY. *‡
PATENTED AJINO-MOTO ( AJIPUE AMINO ACIDS ). *‡
PLUS  ELECTRO – HYDRATION MATRIX  (with Coconut Water). *‡
222.6 GRAMS
WHAT IS CHAIN GANG?
THE BCAA "AMINO FREIGHT TRAIN"
Supplement Facts
Suggested Use
Take One (1) Serving (1 Scoop) Mixed into 8-16oz (depending on taste preferece) of Ice Cold Water, either before, during, or after Workout (Physical Activity) or as directed by a qualified healthcare practitioner. On Non-Training Days, take One (1) Serving (1 Scoop) first thing in the morning on an empty stomach, or as directed by a qualified healthcare practitioner.
Warnings
Not intended for use by persons under the age of 18. Do not exceed recommended dose. Get the consent of a licensed physician before using this product, especially if you are taking medication, have a medical condition, you are pregnant, nursing or thinking about becoming pregnant. DISCONTINUE USE TWO WEEKS PRIOR TO SURGERY. KEEP THIS PRODUCT AND ALL SUPPLEMENTS OUT OF THE REACH OF CHILDREN!
* These statements have not been evaluated by the Food and Drug Administration. This product is not intended to prevent, treat, diagnose, or cure any disease.