Phytobolic
ORGANIC DAILY SUPERFOOD
GREENS | VEGETABLES | FRUITS | FIBER | PROBIOTICS
AMAZING PREMIUM NATURAL TASTE.
MICRONIZED FOR EASY MIX-ABILITY.
FEELS MORE LIKE A TREAT THAN A CHORE.
SUPER FOODS.. SUPER FAST.. ON THE GO!
HELPS TO NOURISH OUR BODY *‡
HELPS ALKALIZE THE BODY *‡
HELPS TO DETOX THE BODY *‡
HELPS SATISFY THE BODY'S HUNGER *‡
HELPS IMPROVE OVERALL HEALTH *‡
HELPS TO SUPPORT PROPER GUT HEALTH *‡
HELPS TO SUPPORT AND ASSIST DIGESTION *‡

240 GRAMS
FLAVOR: GREEN APPLE TANGO
WHAT IS PHYTOBOLIC?
THE XTREME ORGANIC DAILY SUPERFOOD!
GREENS | VEGETABLES | FRUITS | FIBER | PROBIOTICS
Supplement Facts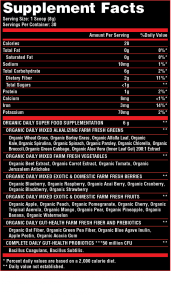 Suggested Use
As a daily dietary supplement mix One Serving (1 Scoop) of this tasty PHYOTOBOLIC superfood (Greens, Veggies, Mixed Berries, Fresh Fruits, Varied Fibers, Prebiotic, and Probiotic) supplement with 4-10oz of ice cold water (depending on taste preference) and mix vigorously to ensure a smooth, consistent, delicious, texture and taste.
Warnings
Do not exceed the recommended dose listed. Do not use if pregnant or lactating. Please consult your physician before using this product or starting any exercise program. Do not use if the seal on cap is broken. Keep this bottle tightly closed in a cool, dry place, away from moisture. Keep out of reach of Children.
* These statements have not been evaluated by the Food and Drug Administration. This product is not intended to prevent, treat, diagnose, or cure any disease.