Happy Dayz
XTREME MOOD ENHANCMENT 
DON'T WORRY BE HAPPY
HELPS TO NATURALLY REDUCE STRESS. *‡

HELPS TO NATURALLY DIMINISH BAD MOODS. *‡

HELPS TO NATURALLY PROMOTE RELAXATION. *‡

HELPS TO NATURALLY CHILL OUT THE MIND. *‡

HELPS TO NATURALLY ENHANCE OVER-ALL WELL-BEING. *‡

SO LET THE GOOD TIMES ROLL!
120 CAPSULES
WHAT IS HAPPY DAYZ?
XTREME MOOD ENHANCEMENT
Supplement Facts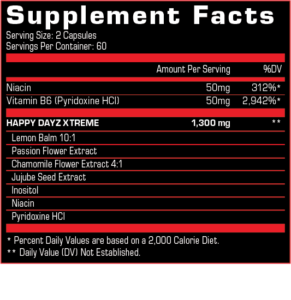 Suggested Use
As an adult dietary supplement to help reduce stress, improve mood, promote rest, relaxation, and over-all well being take 1 to 2 servings (2-4 Capsules) of HAPPY DAYZ after work or in the evening prior to sleep.
During times of higher levels of stress, exhaustion, and or irritability, take another 1-2 servings (2-4 Capsules) on an empty stomach or with a light meal.
Do not exceed 4 Servings or (8 Capsules) in any 24 hour period.
Warnings
Do not exceed the recommended dose listed. Do not use if pregnant or lactating. Please consult your physician before using this product or starting any exercise program. Do not use if the seal on cap is broken. Keep this bottle tightly closed in a cool, dry place, away from moisture. KEEP OUT OF REACH OF CHILDREN. KEEP CONTAINER TIGHTLY CLOSED IN A COOL, DRY AND DARK PLACE
* These statements have not been evaluated by the Food and Drug Administration. This product is not intended to prevent, treat, diagnose, or cure any disease.