Hypnotic
NATURAL GROWTH ACTIVATOR
NOCTURNAL NOOTROPIC FORMULA | SLEEP DEEP AS F#¢K
EUPHORIC NIGHT-TIME RECOVERY DRINK. *‡
HELPS TO NATURALLY SUPPORT HGH & TEST. *‡
HELPS TO NATURALLY SUPPORT LIBIDO & PLEASURE. *‡
HELPS TO NATURALLY SUPPORT POSITIVE MOOD ENHANCEMENT. *‡
HELPS TO NATURALLY SUPPORT RELAXATION. *‡
HELPS TO NATURALLY SUPPORT IMPROVED WELL BEING. *‡
HELPS TO NATURALLY SUPPORT DEEP RESTFUL BLACKOUT SLEEEEEEP!. *‡
HELPS TO NATURALLY SUPPORT REJUVENATION & MUSCLE RECOVERY. *‡
NET WT. 5.3OZ (150G)
NOTICE: SOME INGREDIENTS IN HYPNOTIC ARE HYGROSCOPIC (SENSITIVE TO AIR AND MOISTURE) IN NATURE. THEREFORE SOME OCCASIONAL CLUMPING MAY OCCUR. (THIS IS NORMAL) IF SO, YOU MAY SMASH THE CLUMPS WITH A FORK / SPOON OR SIMPLY CLOSE THE CONTAINER, SQUEEZE AND SHAKE WITH VIGOR. NOTE: THIS DOES NOT DIMINISH THE EFFECTIVENESS OF THE PRODUCT. ALWAYS STORE WITH THE LID ON TIGHT AND ALWAYS REFRIGERATE AFTER OPENING.
WHAT IS HYPNOTIC?
THE BEST FEEL GOOD NIGHT-TIME RECOVERY DRINK WE'VE EVER CREATED!
MUCUNA PRURIENS): is a natural mood enhancer and is well known for promoting positive moods, feelings of mild euphoria and well-being, sexual pleasure, and desire by increasing Dopamine levels in the Brain. It's been used for decades to help fight stress and anxiety. Modern research has shown it to also help with increasing natural levels of Human Growth Hormone and Testosterone thus improving muscle recovery and sex drive. Latest research suggests that it may even reduce Cortisol Levels in Stressed Subjects.
L-ARGININE: is a chemical building block called "an amino acid." It is obtained from the diet and is necessary for the body to make proteins. It is found in red meat, poultry, fish, and dairy products. It can also be made in a laboratory and used as a supplement or medicine. It is known as a Rapid Nitric Oxide Pre-Cursor. (s)-2-amino-5-guanidinopentanoic acid is immediately converted in the body into a chemical called Nitric Oxide. Converted Nitric Oxide causes blood vessels to open wider for improved blood flow. (s)-2-amino-5-guanidinopentanoic acid also stimulates the release of growth hormone.
L-PHENYLALANINE: is an amino acid, a "building block" of protein. There are three forms of phenylalanine: D-phenylalanine, L-phenylalanine, and the mix made in the laboratory called DL-phenylalanine. 2-amino-3-phenylpropanoic acid is an essential amino acid and is the only form of phenylalanine found in proteins. Major dietary sources of 2-amino-3-phenylpropanoic acid include meat, fish, eggs, cheese, and milk. 2-amino-3-phenylpropanoic acid is a precursor for tyrosine; the monoamine neurotransmitters dopamine, norepinephrine (noradrenaline), and epinephrine (adrenaline); and the skin pigment melanin. 2-amino-3-phenylpropanoic acid is biologically converted into L-tyrosine, another one of the DNA-encoded amino acids. L-tyrosine in turn is converted into L-DOPA, which is further converted into dopamine, norepinephrine (noradrenaline), and epinephrine (adrenaline). The latter three are known as the catecholamines.
L-TYROSINE: is an amino acid that In dopaminergic cells in the brain, 2-Amino-3-(4-hydroxyphenyl) ethanecarboxylic acid is converted to L-DOPA by the enzyme tyrosine hydroxylase (TH). TH is the rate-limiting enzyme involved in the synthesis of the neurotransmitter dopamine. Dopamine can then be converted into catecholamines, such as norepinephrine (noradrenaline) and epinephrine (adrenaline). The thyroid hormones triiodothyronine (T3) and thyroxine (T4) in the colloid of the thyroid also are derived from 2-Amino-3-(4-hydroxyphenyl) ethanecarboxylic. Science suggests that this ingredient may yield some outstanding improvements in cognitive and physical performance in mammals.
PYRIDOXINE: is an all-natural ingredient shown to help increase the absorption and effectiveness of other ingredients by helping them cross the blood-brain-barrier. Pyridoxine works synergistically with other ingredients to increase overall effect of this formula.
Supplement Facts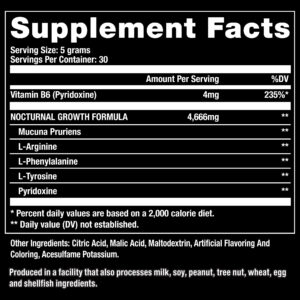 Suggested Use
As an adult dietary supplement, take 1 heaping scoop (5g) in 20-30 ounces of water (to access tolerance) 20-30 minutes before bedtime to increase growth hormone production.‡ Once users have accessed their own personal tolerance they may increase the serving size up to 4 scoops depending on preference of the desired effect.
Warnings
DO NOT USE If PREGNANT OR NURSING. This product is only intended to be consumed by healthy adults 18 years of age or older. Before using this product, consult with your physician if you are using any prescription or over the counter medication or if you have any pre-existing medical condition including but not limited to: high or low blood pressure, cardiac arrhythmia, stroke, heart, liver, kidney or thyroid disease, seizure disorder, psychiatric disease, diabetes, difficulty urinating due to prostate enlargement or if you are taking a MAOI (Monoamine Oxidase Inhibitor) or any other medication. Discontinue use and consult your health care professional if you experience any adverse reaction to this product. Do not exceed recommended serving. Do not use if safety seal is broken or missing. DO NOT OPERATE HEAVY MACHINERY WHEN USING HYPNOTIC!! MAY CAUSE DROWSINESS. Consuming more than recommended amounts may cause dizziness, nausea, extreme euphoria and temporary loss of balance. Keep container tightly closed in a cool, dry and dark place.
KEEP OUT OF REACH OF CHILDREN.
* These statements have not been evaluated by the Food and Drug Administration. This product is not intended to prevent, treat, diagnose, or cure any disease.