Equalizer AM SUPER SAVER 2 PACK
WAKE THE F@CK UP!
THE MOST COMPLETE PRE-WORKOUT WE'VE EVER FORMULATED. *‡
HELPS TO SUPPORT SH*T-TONS OF INTENSE ENERGY! *‡
NATURALLY CONTAINS STIM, FAT BURNING & FOCUS AGENTS *‡
HELPS TO NATURALLY SUPPORT TEST PRODUCTION. *‡
HELPS TO NATURALLY SUPPORT NUTRIENT PRIMING & RECOVERY. *‡
HELPS TO NATURALLY SUPPORT CELL EXPANSION & VASODILATION. *‡
HELPS TO NATURALLY SUPPORT MUSCULAR ENERGY & ENDURANCE. *‡
NET. WT 8.5oz (240g)
WHAT IS EQUALIZER AM?
THE MOST COMPLETE PERFORMANCE PRE-WORKOUT WE'VE EVER CREATED!
OVER SIXTEEN (16) AND A HALF THOUSAND MILLIGRAMS OF THIRTY SEVEN (37) ACTIVE INGREDIENTS PER SERVING. SIX (6) INDEPENDENTLY COMPLETE PRODUCTS IN ONE PRODUCT… 6-IN-1
ENERGY / FOCUS / FAT BURNING – (CNS) STIMULATION / FOCUS COCKTAIL (REAPER TECHNOLOGY)
Caffeine Anhydrous, Yerba Mate Extract, Theobromine Anhydrous, Quebracho Blanco Extract (Bark), L-Tyrosine Ethyl Ester HCI, Methylcobalamin, Cyanocobalamin.
This formula was designed to Wake You the F@¢K UP. Over-Loaded with ingredients to help you Get the F@¢K Up, Feel Great, Improve Mood, Focus, and Burn Nasty Fat while you Tear Sh*t Up!
NITRIC OXIDE / PUMP PERFORMANCE – CELL EXPANSION / VASODILATION COCKTAIL (NITROMEAN TECHNOLOGY)
Agmatine Sulfate, L-Arginine Alpha Ketoglutarate, L-Arginine Ethyl Ester Dihydrochloride, L-Arginine HCl, L-Arginine Malate, Glycine-L-Arginine-Alpha-Ketoisocaproic Acid.
This formula is packed with seven (7) Nitric Oxide / Vasodilating ingredients that was designed to help Expand your Blood Vessels, Increase Blood Flow, support Nutrient Transport so you can BLOW THAT SH*T UP while you get that SERIOUS PUMP on !
CREATINE / MUSCLE PERFORMANCE – MUSCULAR STRENGTH / ENERGY / ENDURANCE COCKTAIL (CREAMEAN TECHNOLOGY)
Creatinol-O-Phosphate, Beta-Alanine Ethyl Ester HCl, Adenosine Triphosphate Sodium, Taurine Ethyl Ester HCl, Guanidinop Proprionic Acid, Inosine-Ethyl Ester HCl, Creatine Ethyl Ester HCl, Disodium Creatine Phosphate Tetrahydrate, Di-Creatine Malate, Creatine Monohydrate.
This formula is STACKED with TEN (10) Muscle Performance Enhancing Ingredients. All Designed to Increase Strength, Endurance, Performance, and over all Power Output. Enjoy the BETA Body High as you Crush Set after Set after Set!!
TESTOSTERONE / LIBIDO PERFORMANCE – TEST AMPLIFICATION COCKTAIL (ANNIHILATION TECHNOLOGY)
D-Aspartic Acid, Zinc Monomethionine Aspartate, Magnesium Aspartate, Pyridoxine HCl.
This formula is comprised of Four (4) Testosterone and Libido enhancing ingredients. These ingredients are so powerful and sought after that many companies sell them as stand-alone products. ( D-Apartic Acid, and ZMA) Get Stronger and Make your Lover Happy as you Spike your Test and Libido Levels on the DAILY!
BCAA / L- GLUTAMINE / RECOVERY – NUTRIENT PRIMER / RECOVERY COCKTAIL (CHAIN-GANG TECHNOLOGY)
L-Leucine Ethyl Ester HCl, L-Isoleucine Ethyl Ester HCl, L-Valine Ethyl Ester HCl, L-Glutamine Ethyl Ester HCl.
This formula is also comprised of Four (4) Essential Recovery and Performance Ingredients. Many companies (including ours) sells BCAAs and L-Glutamine as Stand-Alone Products.. ALL of which are in Equalizer AM to provide training energy, improved performance, and immediate as-needed recovery! Why go into that workout Catabolic? Does your Pre-Workout have Aminos? DON'T TRAIN ON EMPTY!
ARGINASE INHIBITING / SEXUAL PERFORMANCE – ARGINASE INHIBITING / ANTI CONVERTING COCKTAIL (HARD TIMEZ TECHNOLOGY)
L-Cysteine HCl, L-Norvaline.
This formula contains three (2) ingredients that are designed to Inhibit Arginase! Inhibiting Arginase helps increase Nitric Oxide production by increasing intracellular levels of L-Arginine. Improved Bioavailability of L-Arginine helps lead to Bigger, Fuller, and more Explosive Performance!!
Supplement Facts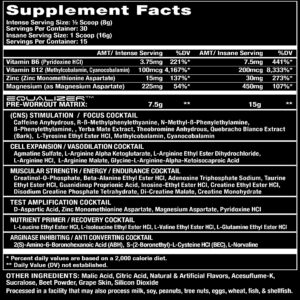 Suggested Use
As a dietary supplement:
ATTENTION FIRST TIME USERS: TAKE ½ SCOOP TO ASSESS TOLERANCE.
p.s. WE'RE F@¢KIN SERIOUS!!!
INTENSE TRAINING: Take ½ Scoop in 6-18oz (depending on Taste Preference) of ice cold water 30 minutes prior to training.
INSANE TRAINING: Take 1 Scoop in 6-18oz (depending on Taste Preference) of ice cold water 30 minutes prior to training.
DO NOT EXCEED RECOMMENDED DAILY INTAKE. DO NOT TAKE ON AN EMPTY STOMACH. USE ONLY AS DIRECTED.
Warnings
DO NOT USE If PREGNANT OR NURSING. This product is only intended to be consumed by healthy adults 18 years of age or older. Before using this product, consult with your physician if you are using any prescription or over the counter medication or if you have any pre-existing medical condition including but not limited to: high or low blood pressure, cardiac arrhythmia, stroke, heart, liver, kidney or thyroid disease, seizure disorder, psychiatric disease, diabetes, difficulty urinating due to prostate enlargement or if you are taking a MAOI (Monoamine Oxidase Inhibitor) or any other medication. Discontinue use and consult your health care professional if you experience any adverse reaction to this product. Do not exceed recommended serving. Do not use if safety seal is broken or missing. Keep container tightly closed in a cool, dry and dark place. KEEP OUT OF REACH OF CHILDREN.
* These statements have not been evaluated by the Food and Drug Administration. This product is not intended to prevent, treat, diagnose, or cure any disease.