Safeguard
XTREME IMMUNE SYSTEM SUPPORT
INTENSE DEFENSE
DAILY DEFENSE. *‡
INTENSE DEFENSE. *‡
XTREME RECOVERY. *‡
HELPS TO NATURALLY SUPPORT GOOD HEALTH. *‡
HELPS TO NATURALLY SUPPORT THE IMMUNE SYSTEM. *‡
90 CAPSULES
WHAT IS SAFEGUARD?
XTREME IMMUNE SYSTEM SUPPORT!
Supplement Facts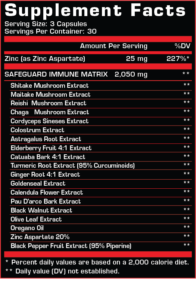 Suggested Use
DAILY DEFENSE: As a dietary supplement for adults, take 1 serving (3 Capsules) once daily to help strengthen the body's immune system and help prevent getting sick during cycles.
INTENSE DEFENSE: During Cold and Flu season take 1 serving (3 Capsules) twice daily to help strengthen the immune system and help fight off unwanted sickness.
XTREME RECOVERY: Users that are currently sick take 1 serving (3 Capsule) three times daily to help with xtreme recovery.
DO NOT TAKE ON AN EMPTY STOMACH! DRINK A MINIMUM OF 64oz. OF WATER DAILY.
Warnings
Do not exceed the recommended dose listed. Do not use if pregnant or lactating. Please consult your physician before using this product or starting any exercise program. Do not use if the seal on cap is broken. Keep this bottle tightly closed in a cool, dry place, away from moisture. KEEP OUT OF REACH OF CHILDREN. KEEP CONTAINER TIGHTLY CLOSED IN A COOL, DRY AND DARK PLACE
* These statements have not been evaluated by the Food and Drug Administration. This product is not intended to prevent, treat, diagnose, or cure any disease.